Do you dream of having thick, lush hair? Has time, aging, or a medical condition thinned your hair or made it fall out? Do you believe that once you lose your hair, it's gone forever?
Asim Medical is dedicated to helping you regain the appearance, confidence, and youthfulness that a thick, full head of hair gives you - without the risks, costs, and long recovery times of surgery. Our cutting-edge treatment options are performed by Dr. Asim right here in our Orlando, FL office, with no anesthesia, medications, or gimmicks. We offer only scientifically proven hair restoration techniques that are safe, effective, and present mild or no side effects.
Discover how our advanced hair replacement treatments can help you reclaim your right to look and feel your very best. Schedule your complimentary consultation with our skilled and compassionate professionals right now by calling (407) 456-8082, or contact us here.
Serving patients in Orlando, Altamonte Springs, Fern Park, Maitland, Forest City, Wekiwa Springs, Seminole County, and the surrounding Greater Orlando Metro area communities.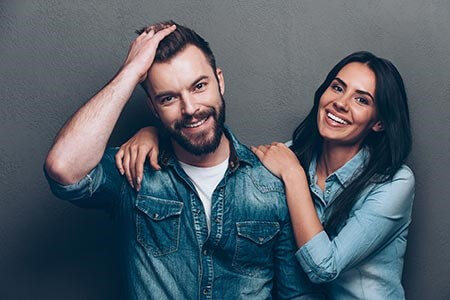 WHY AM I LOSING MY HAIR?
Hair loss is common among men and women between the ages of 30 and 60. Androgenetic alopecia - commonly known as male-pattern baldness or female-pattern baldness - is the most common cause of hair loss. The condition is more common in men. Today, the condition affects approximately 50 million men and 30 million women.
Hair loss is believed to be hereditary and is caused by a hormone called dihydrotestosterone (DHT). Your hair follicles get smaller and thinner when DHT binds to certain overly-sensitive receptors in them, eventually making the follicles fall out. Baldness happens when a lot of hair follicles fall out in one area.
Other causes of hair loss include:
Scalp infections
Chemotherapy or radiation cancer treatment
Autoimmune skin disease - commonly alopecia areata, a disease-causing your body's immune system to attack hair follicles
Skin scarring
Medications
Hair pulling
Skin overexposure to heat or ultraviolet (UV) light
OUR HAIR RESTORATION APPROACH
Dr. Asim understands that hair loss affects you on a deeply personal level. That's why our skilled and compassionate team is dedicated to the science and art of hair restoration and hair replacement aesthetics.
Until now, hair loss was permanent because effective hair restoration was virtually impossible. Most techniques created less than desirable results - if they worked at all. Dr. Asim is changing that by using only today's top techniques that are proven to be safe and effective.
We know that hair restoration is about more than just looks - it's about feeling positive and confident every day. Our patients know that we care about them as individuals. That's why our center is a leading hair restoration clinic in Orlando, FL.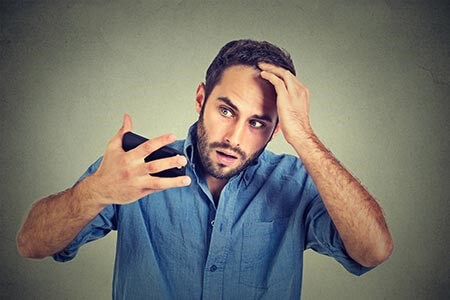 HAIR RESTORATION TREATMENTS IN ORLANDO, FL
We offer many different hair loss treatment options. These vary depending on your condition, its severity, and your personal preference.
---
NEOGRAFT THERAPY
Follicular Unit Extraction, or FUE, involves harvesting hair follicles from a donor or certain parts of your body and implanting them into your desired hair growth area. Unlike older grafting techniques that involved surgically removing strips of your scalp, this minimally-invasive hair transplant method which uses no scalpels or stitches, and creates no unsightly scarring.
To perform FUE, Dr. Asim uses NeoGraft, an advanced technology that permits precise and efficient follicle extraction - up to 3000 individual hair grafts per session. It's pain-free, adjustable to accommodate all skin types, and highly effective for relocating your natural hair follicles without the risks or long recovery times associated with surgery.
Discover how Dr. Asim uses FUE technology here: Neograft Therapy in Orlando, FL
---
PLATELET-RICH PLASMA (PRP)
Platelet-rich plasma (PRP) therapy is a non-surgical medical procedure that uses a serum derived from your blood platelets. This exciting hair loss treatment option has a wealth of modern medical applications, from helping to heal skin after surgery or trauma to enhancing cosmetic beauty procedures. It can be used on all skin types and for a wide variety of hair loss conditions.
First, Dr. Asim will draw a small sample of your blood. This sample is then spun in a centrifuge until the platelets separate from the red and white blood cells. The process is repeated until a thick, potent serum is created - your platelet-rich plasma.
Platelets contain powerful proteins known as growth factors. These are responsible for healing and regenerating collagen, fibroblasts, and blood vessels - the building blocks of healthy, attractive skin. When injected into your scalp, this platelet-rich serum naturally stimulates your hair follicles to promote healthy hair growth and regeneration.
To maximize your hair loss treatment's effectiveness, Dr. Asim combines PRP therapy with ECM (extracellular matrix), an FDA-approved protein matrix that strengthens your body's native growth factors and healing properties. The result: an extra-powerful hair restoration technique using all-natural components.
Find out how PRP can help regrow your hair naturally: PRP Hair Treatment in Orlando, FL
---
LASERCAP THERAPY
LaserCap is a discreet, FDA-approved laser technology device you wear on your head. The cap safely delivers invisible, low-level wavelengths of red light to stimulate your hair cells and gently promote new growth.
The cordless device can be used in everyday life, such as when walking or driving, and it's easily concealable. The best part? You only need to use it for about 5 minutes per day to achieve its powerful benefits, and no side effects have been reported. With proper and regular use, new hair growth is noticeable as quickly as 12 weeks.
Low-level laser therapy has been shown to increase existing hair strength, health, and thickness while also stimulating new hair growth without any medications, creams, or surgical procedures.
Learn how LaserCap technology is revolutionizing hair restoration: LaserCap Hair Loss Therapy in Orlando, FL
---
HAIR LOSS MEDICATIONS AND SUPPLEMENTS
A wide variety of medications and supplements can treat hair loss without surgery or dangerous medications. These include:
Minoxidil (Rogaine): an FDA-approved medicated foam that stimulates hair growth and slows balding
Finasteride (Propecia): an oral medication that treats male pattern baldness by slowing the circulation of 5 alpha-reductase, the enzyme that converts testosterone to DHT and contributes to hair loss
Saw palmetto: supports hair growth and slows the balding effects of alpha-5 reductase
Explore how these options can promote hair growth: Hair Loss Medications and Supplements in Orlando, FL
RESERVE YOUR APPOINTMENT
Your hair is more than just a casual feature. It's an important part of your personality, individuality, and vitality. Dr. Asim understands that hair restoration isn't just about helping you look better outside - it's about empowering you to feel great inside, too.
Modern hair restoration technology goes far beyond the painful and ineffective methods of the past - these days, restoring your lost hair is nearly as easy as picking up the phone and booking your complimentary consultation.
Our team of caring experts wants to help you look and feel your very best. To discover how Dr. Asim can help you rediscover the confidence and happiness you desire and deserve, call Asim Medical right now at (407) 456-8082 or contact us online.
---
OUR LOCATION