FACIAL ENHANCEMENT WITH JUVEDERM® VOLUMA XC
Do you dream of a supple, younger-looking face? Have aging or medical conditions made you feel self-conscious about your facial aesthetics? You may benefit from Voluma XC facial enhancement injections.
Juvéderm® Voluma XC is a cutting-edge injectable gel that fills in wrinkles, tightens skin, and maximizes your facial skin volume. A simple, non-invasive procedure, Voluma XC injection is one of today's top methods for restoring the youthful appearance you desire and deserve. Its near-instant effects make your face appear naturally contoured and defined, without the risks and downtime associated with invasive surgeries. And because it's FDA-approved, you can feel confident about your procedure's safety and effectiveness.
Our specialists are ready to help unlock a happier, healthier, younger-looking you. To speak with a facial aesthetics specialist today, call us at (407) 456-8082 or contact us here.
Serving patients in Orlando, Altamonte Springs, Fern Park, Maitland, Forest City, Wekiwa Springs, Seminole County, and the surrounding Greater Orlando Metro area communities.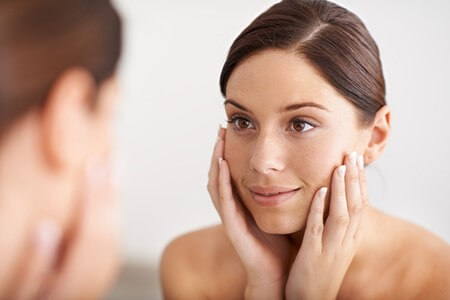 ---
FREQUENTLY ASKED QUESTIONS
WHAT IS JUVÉDERM® VOLUMA XC?
Juvéderm® Voluma XC is a modern facial enhancing gel available through a simple, non-invasive injection.
As it ages, our skin begins to lose its natural level of hyaluronic acid, which lends it firmness, tightness, and moisture. This causes wrinkles, lines, and sagging, making our skin dry, thin, and aged-looking.
Voluma XC is a robust gel composed of natural hyaluronic acids. This amazing gel can restore your face's youthful appearance and natural beauty by filling in lines, increasing plumpness and maximizing firmness. Voluma is designed to stay in place once injected, making it a top choice for targeting specific facial areas. Once injected into the skin, Voluma XC gives your skin a lush, radiant texture that looks natural and can last for years.
WHAT DOES VOLUMA XC TREAT?
Voluma XC successfully treats these signs of aging:
Loose, sagging skin
Thinning skin
Lines and wrinkles
Sunken or hollow cheeks
WHAT CAN I EXPECT FROM MY VOLUMA XC TREATMENT?
Generally, Voluma XC injection is a straightforward outpatient procedure that takes less than an hour. No invasive surgery or hospital stay is required, making it a great option for busy patients.
Your doctor will numb your face with a local anesthetic, then inject small amounts of Voluma XC into the targeted areas until your desired effect is achieved. After the procedure, you may receive an ice pack to relieve any discomfort or swelling.
You may see results immediately, or it may take several days to achieve the maximum effect. Some patients may require one or more touch-up injections before reaching their desired outcome. Many Voluma XC candidates report the effects lasting up to two years. Results vary.
WHAT ARE THE POSSIBLE SIDE EFFECTS OF VOLUMA XC TREATMENT?
Like any medical procedure, Voluma XC treatment presents a risk of side effects, but they're generally mild or rare:
tenderness at injection site
swelling
bruising
pain
redness
itching
Rare side effects may include:
infection
scarring
vision problems
stroke
allergic reaction
If you have ever experienced excessive scarring, take immunosuppressive or blood-thinning medications, or if you plan to undergo other cosmetic procedures, and talk to your doctor.
BOOK YOUR APPOINTMENT TODAY
You no longer have to look older than you feel. Juvéderm® Voluma XC is a leading injectable facial filler that offers nearly instant anti-aging aesthetics and restores that healthy, youthful appearance you want and deserve. Discover how improving your facial appearance can make you happier and more self-confident—without the risk and recovery time of invasive surgery.
To discover the amazing anti-age benefits of Voluma XC, call our specialists today at (407) 456-8082 or contact us here.
---
OUR LOCATION