ASIM'S FACE LIFT
Sun exposure, facial expressions, and the volume loss induced by natural aging can cause wrinkles, lines, sagging, and spots – overall, a less youthful appearance.
Asim's Face Lift is a multi-faceted, non-surgical cosmetic therapy that restores your skin's natural voluptuous brilliance. Our advanced system combines a wide array of modern aesthetic therapies to revitalize your skin with the healthy, silky-smooth radiance you desire.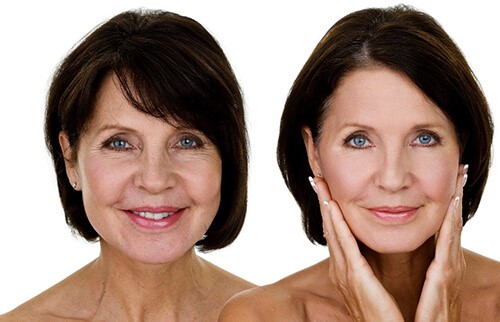 WHAT DOES ASIM'S FACELIFT TREAT?
Beautiful skin starts with pampering the largest organ in your body in exactly the right places. Our cutting-edge combination of modern medical innovations maximizes your comfort and aesthetics while minimizing unwanted side effects.
Asim's non-surgical facelift defies unwanted aging effects, correcting these imperfections:
wrinkles
fine lines
sagging
volume loss
crow's feet (lines around your eyes)
sun damage
age spotting
creases
acne scars
HOW IS THE ASIM FACELIFT PERFORMED?
Asim's unique facelift combines five comprehensive non-surgical procedures for total skin rejuvenation. The amount and degree of each will be customized to your needs and desires:
platelet-rich plasma (PRP) facial therapy: injection of platelets and fibrin protein from your own blood, stimulating your cells to regenerate themselves
Juvederm® natural lip filler: an FDA-approved cutting-edge gel that's injected to fill wrinkles, maximize volume, and tighten your skin; almost instantly contours and defines, without the risks and downtime of surgery
Botox® wrinkle smoother: an FDA-approved series of tiny injections to minimize the muscle movement that causes wrinkles or folds; requires topical anesthesia; takes 15 minutes; shows results in three to five days
radio frequency facial contour refiner: "the contour refiner" of skin therapy made famous by Jennifer Aniston; softens fine lines while firming contours – both immediately and over time – by stimulating your own collagen production through 38-40 degree radiofrequency heat
microneedle skin smoothing therapy: a sterilized device delivers a series of controlled "wounds" beneath the skin's surface, triggering natural collagen production; in conjunction with radio frequency creates a super-filtered look
By synergizing these treatments, Asim's Face Lift resurfaces and restores volume, intensifying results without invasive complicated surgeries. As with any medical procedure results will vary based on age, genetics, environmental and health factors.
ARE THERE ANY SIDE EFFECTS?
These fast, convenient, and minimally invasive procedures require very little downtime, typically around 1 to 2 days.
Serious side effects are very rare. Mild side effects may occur, but they're temporary. Many describe the after-effects as being similar to mild sunburn: redness and light swelling that will subside in a short amount of time:
redness
light swelling
slight skin discomfort
If you experience any serious side effects, contact Asim Medical or seek emergency medical attention immediately.
REQUEST TREATMENT INFORMATION TODAY
The Asim facelift is your best choice for reversing the effects of aging, sun damage, and other skin conditions.
We offer the skin replenishment you're dreaming of without the potential downsides of invasive traditional procedures.
By combining the most advanced aesthetic approaches with a caring, experienced, and supportive staff, Asim Medical proudly offers the very best cosmetic procedures available to restore your skin's brilliance.
To find out how Asim Medical can help you discover a happier, lovelier you, call our specialists at (407) 456-8082, or contact Dr. Asim Rahman online by clicking here.
Serving patients in Orlando, Altamonte Springs, Fern Park, Maitland, Forest City, Wekiwa Springs, Seminole County, and the surrounding Greater Orlando Metro area communities.
---
OUR LOCATION